Hose Restraints - Keeping your workers safe
The Wireaid Hose Restraints contain the whipping from high pressure hose failure, significantly reducing the risk of workplace injury. Handwoven by their specialist team, the wireaid restraints are used all over the globe in mining, oil & gas, high pressure water jetting, defence, agriculture and construction.
STOCKING TYPE HOSE RESTRAINTS
More grip, more safety.
Wireaid manufacture stocking type hose restraints with a woven helical design. The plait configuration has more surface contact with the hose, providing optimal grip and safety.
Supported by extensive R&D
Versatile & adaptable
Reduces hose abrasion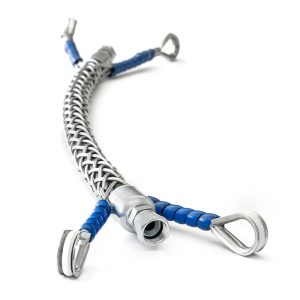 TWO EYE vs FOUR EYE HOSE RESTRAINTS
Meet standard workplace safety needs with a two-eye hose restraint. Protect the hose at the coupling point and prevent whipping should the hose become detached from the fitting.
For even more coverage, use a four-eye hose restraint to protect the hose from end to end. The restraint will prevent whipping should the hose fail at any point.