Hoist & Winches:

Truck Winch & Wire Rope Winch
Winches and hoists provide assistance for two different types of load movement. A truck winch or similar type of winch focuses on pulling the heavy load over a slight incline. A hoist is designed to pull and lift a load over a higher incline. Although they may seem interchangeable, a hoist has a safety factor of 5:1 whereas a winch has a safety factor of 3:1.
Always use the equipment designed for the type of lift you need to allow for a safe job site. Contact All About Lifting & Safety for expert advice on hoists and winches.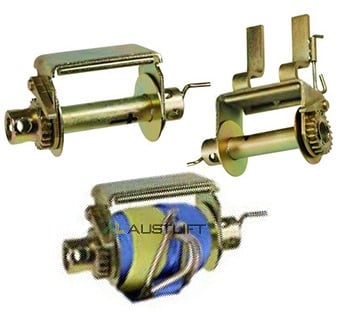 Truck Winch
A truck winch is permanently or temporarily attached to the vehicle allowing you to utilise the power and stability of your truck when pulling a load. A truck winch has the possibility of either being hand operated or powered by the vehicle's battery. For winches that are powered by your truck's battery, always keep note of how long your vehicle has been running so as not to diminish the battery.
Wire Rope Winch
A wire rope winch allows you to use the strength of a wire rope, coupled with the ease of a winch. Use this winch to either pull or lift loads across a distance. Add additional power to your wire rope winch by connecting a wire rope fitting to customise your lift.
Prevent Your Winch from Breaking
Does your winch cable keep breaking? Here are a few tips that will help to prevent breakage:
Use a snatch block. Using a snatch block doubles the strength for the pull.
Rewrap your new winch. Ensure the cable is tightly wrapped to the drum to prevent sudden pulls.
Never attach the cable to itself. As easy as it may look to quickly attach the cable to itself in a circle around the object or contact point, this compromises the integrity.
Eliminate quick movements. The winch's wire is not designed for quick, sharp movements. Take your time and pull the load in one swift motion.
All About Lifting & Safety stocks a wide range of lifting equipment and safety products.
Our key products and services include:
We also provide 24 hour support with safety solutions and equipment for emergency situations.
For all of your lifting and safety equipment needs and products such as a truck winch or wire rope winch, contact us today.